Police probing Perth sexual assault pull mattress from River Tay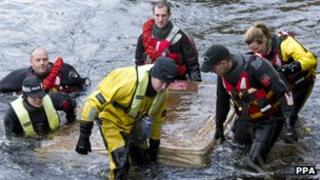 Police divers searching a stretch of the River Tay as part of an investigation into a sexual assault in Perth have recovered a mattress.
The mattress is believed to be one that was stolen from a house in Potterhill Gardens in the city in which a 23-year-old woman was threatened and then sexually assaulted.
The theft took place before the incident was reported to the police.
Officers are not ruling out links to a number of break-ins in the city.
The mattress, thought to have been taken on 15 October, was uncovered by a team from Central Scotland Police Underwater Search Unit and Tayside Fire and Rescue.
Tayside Police have released a description of the man who was seen with the mattress last Tuesday morning.
He is slim, aged in his 40s, with short hair at the back and sides and a short dark spike on top which was dark but greying.
Other incidents
At the time he was wearing dark green waterproof trousers and jacket.
Enquiries are also continuing into an incident in Bridgend Court at about 19.30 on Sunday 14 Oct, where a 68-year-old woman was assaulted and robbed in her own home.
Officers said they are not ruling out a connection between the incidents and a number of other reported sneak-in thefts in the vicinity where small items may have been stolen and perhaps not discovered missing until later.