Man who filmed girls in Perth banned from supermarkets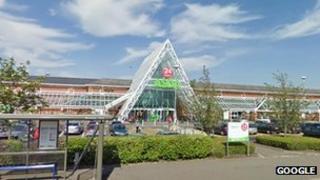 A project manager has been banned from supermarkets between noon and 14:00 after he admitted secretly filming schoolgirls buying sweets.
Ged McColl, 49, used a tiny video camera hidden in a car key fob to film up the skirts of the unsuspecting youths at an Asda in Perth.
At Perth Sheriff Court admitted the offence committed on 7 September.
Sentence on McColl was deferred, but he was placed on the sex offenders register and given the supermarket ban.
The court heard former Aviva project manager McColl used the camera to film up the girls' skirts on their lunch break at the Asda supermarket.
Worried shoppers
It was also told that McColl spent a weekend behind bars after he was found to have secretly recorded at least 11 separate videos of girls and young women in the store in Perth.
Concerned shoppers became so worried by his bizarre behaviour that they followed him around the store and reported him to security staff.
Fiscal depute Rebecca Kynaston told Perth Sheriff Court: "At 12.45 pm, two shoppers saw him kneel down beside a schoolgirl aged 12 to 14, with a keyring camera between her legs pointing up her skirt.
"They were alarmed and pulled the girl away from the area. They followed the accused round the shop to an area where a large amount of similarly aged girls were located.
"He knelt beside another schoolgirl and held the camera in his hand, pointing it up between the girl's legs. The witnesses felt he was filming up skirts and the staff were alerted."
'Numerous videos'
She told the court that security staff eventually approached McColl and asked him to leave the store but then spotted the camera and detained him.
When police arrived, they studied the key fob, which can be bought for just £10, and found the video camera with slots for USB and SD cards.
Ms Kynaston said: "The accused's clips were located and there were numerous videos showing footage up schoolgirls' skirts. The camera seized contained 11 of these files.
"The videos taken were mostly schoolgirls, but varied in age from teens to late 20s."
McColl, from Perth, admitted using a key ring camera to secretly video footage under the clothing of schoolgirls in Asda in Perth on 7 September.
Sentence was deferred and McColl was bailed under the condition he would not return to the Asda in Perth.
He was also banned from entering any supermarket between 12:00 and 14:00 while schoolchildren could be present during their lunch breaks.