Phone navigation warning after lost hillwalkers rescued from Trossachs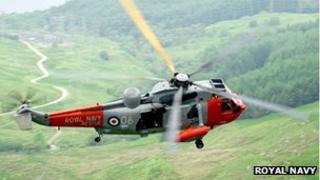 The Royal Navy have stressed the importance of using a map and compass after hillwalkers navigating solely by smart phone had to be rescued from the Trossachs.
Police contacted the search and rescue team after receiving a call from the lost walkers at about 15:00 on Tuesday.
A helicopter from HMS Gannet helped locate the trio at a height of more than 3,000ft on Beinn a Chroin.
None of the hillwalkers were hurt during the incident.
The Sea King helicopter had been on routine training around Glen Coe when it was contacted.
Thick cloud
Police on the ground had spotted the helicopter flying past them en route to Ayrshire and had radioed the aircraft directly.
Petty Officer Mike Henson, duty aircrewman on board, said they were able to respond "almost immediately".
He said: "It quickly became clear that we would not be able to get as close to the walkers as we might have liked - the cloud base was at about 2,300ft.
"Obviously we can't simply fly into thick cloud, so we managed to put the helicopter down on a rocky buttress as far up as we could."
Petty Officer Henson got out to find the stranded walkers and guided them back to the aircraft.
The trio had begun their day out in the mountains in clear weather, but had been caught out by cloud closing in around them near the summit.
None of them had a map or compass with them and they were using a smart phone to navigate.
Clothes and whistles
Petty Officer Henson added: "Fortunately they had a whistle which they were able to blow to give me an indication of where they were - the easiest thing was to tell them to stay in one place and for me to go to them."
"They had been lost for about two hours by the time I got there."
He praised the walkers for having the foresight to wear high visibility clothing and bring the whistle, but said choosing to navigate by phone was dangerous.
"It is not a good idea to venture into the mountains, no matter how clear the day, without having a proper map and compass with you - and knowing how to use them," he said.
"It doesn't take much for the weather to close in around you and mobile phone reception can be notoriously fickle."