Dundee fraudster avoids jail over £1.5m cheque scam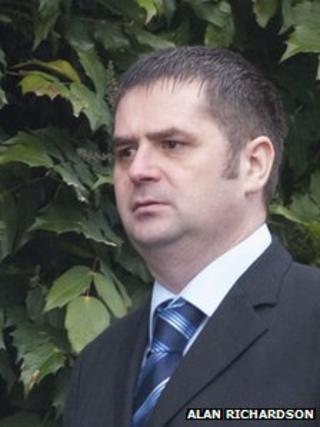 A fraudster who cashed more than £1.5m worth of cheques at his work in less than 18 months to cover his massive gambling habit has avoided jail.
Steven Brady, 37, used a line of credit at Booker Cash and Carry in Dundee to cash cheques worth up to £36,000.
Dundee Sheriff Court heard Brady used the cash to place football bets online.
Sheriff Elizabeth Munro sentenced Brady to a two year community payback order and ordered him not to gamble for that period.
The court was told he started by cashing small cheques drawn from his personal bank account at his work and then covered those with larger cheques.
Came clean
As the 37-year-old's habit spiralled out of control so did his withdrawals, with a string of cheques worth upwards of £10,000 each being left unpaid.
He eventually bared his soul to his parents in the spring of 2010, confessing his addiction and his scheme.
Dundee Sheriff Court heard Brady was placing football bets of up to £900 at a time, and would "lose thousands in minutes" on internet bookies' sites.
The company's area manager, was eventually contacted, who Brady then handed a bag containing £46,000 in cash.
A probe into the scam led to Brady and several other staff being suspended, although the others were later reinstated.
Thousands of pounds
Fiscal depute Nicola Gillespie told the court: "An investigation began and it was found that five personal cheques had been cashed but failed to clear.
"They were for £36,000, £10,000, £18,000, £24,000 and £18,000 again. He had obtained in total £1,506,500 in cash.
"The total that had gone unpaid came to £106,000. Taking into account the bag of cash containing £46,000 the total left unpaid to the company came to £60,000."
Brady, from Dundee, pleaded guilty on indictment to forming a fraudulent scheme to cash cheques of increasing value knowing they would not clear at Booker Cash and Carry between 1 January 2009 and 31 May 2010.
No gambling
George Donnelly, defending, said Brady, a father-of-three, had "been in the grip" of a "horrible" gambling addiction.
"He had this fixation that the one big win was round the corner, but as is always the case it never was."
Sheriff Elizabeth Munro sentenced Brady to a two year community payback order, ordered him to carry out 200 hours of community service and ordered him not to gamble for that two year period.
She said: "I've decided not to impose a custodial sentence in your case. That's not because I feel sorry for you, it's the people who you have damaged I feel sorry for.
"It is about time you stop feeling sorry for yourself and get on with it."