Driver who caused fatal A9 crash by sleeping is jailed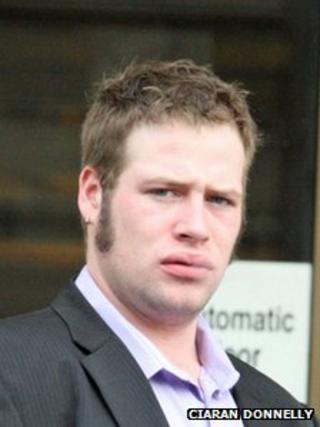 A HGV driver who fell asleep at the wheel and caused a crash on the A9, in which a lorry driver died, has been jailed for three and a half years.
The High Court in Edinburgh heard David MacDonald failed to take sufficient rest before the collision near Dunkeld, in Perthshire, on 23 December 2010.
His tanker drifted across the road before hitting a lorry driven by Gordon Cooper, who was killed in the crash.
Judge Lord Bracadale said no sentence would bring back Mr Cooper.
At a previous hearing, MacDonald, 25, admitted causing the death of Mr Cooper, 57, by driving dangerously on the Perth to Inverness road, between Dunkeld and Ballinluig, while he was excessively tired.
Trapped by collision
Both vehicles were travelling at 56 mph, the maximum allowed by their speed limiters, while a 40 mph limit applied to their class of vehicle on that stretch of road.
The court heard that after the collision Mr Cooper, from Montrose in Angus, was trapped in the cab, pinned by the steering wheel.
When firefighters removed the cab structure, no trace of a heartbeat could be found.
MacDonald, from Aviemore, was thrown from the cab of his vehicle in the crash, resulting in the loss of his right leg below the knee and a fracture to his left leg.
A third lorry had ploughed into the back of the other two but its driver was uninjured.
Lord Bracadale said Mr Cooper was a family man who left a widow and two sons and he was conscious that no sentence he imposed could bring him back or begin to compensate for his loss.
Inadequate rest
He said: "The sentence cannot and is not intended to measure the value of the life of Mr Cooper."
The judge told MacDonald that he had embarked on a long return journey between Elgin, in Moray, and Girvan, in Ayrshire, through the day and night without taking adequate rest periods.
He added: "The predictable result was you fell asleep at the wheel with devastating consequences.
"All drivers must take care not to drive when too tired and for commercial drivers, like you, the regulations over rest periods are laid down with the specific purpose of preventing such catastrophic occurrences."
Lord Bracadale said he accepted that MacDonald had shown remorse and was carrying "a considerable burden" over what happened and that he suffered serious injuries.
The judge told him he would have faced a jail sentence of four years and nine months but for his guilty plea.
He also banned MacDonald from driving for seven years and ordered he resit the extended test.