Perth man Raymond Moir faces jail for violent pensioner robbery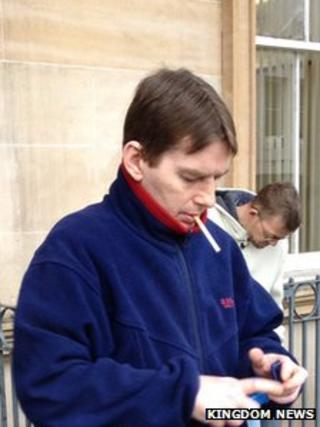 A judge has told a robber who broke into a pensioner's flat, wrapped the man's head in clingfilm and stubbed a cigarette out in his face, that he should expect a "lengthy" jail term.
Raymond Moir and Michael McLelland burst into Alasdair Thorburn's flat in Perth's High Street before subjecting him to the "terrifying" ordeal.
At the High Court in Dundee, a jury found Moir guilty of robbery.
Judge Lord Turnbull deferred sentence until next month.
Mr Thorburn told the High Court in Dundee that he had returned to his flat in Perth's High Street from a nearby pub before falling asleep in his chair.
Threatened pensioner
A short time later he was woken by two men entering his flat.
Mr Thorburn, 68, said Moir, who was standing trial, and McLelland, who is already serving a jail term over the attack, entered and said: "We know you have money, tell us where it is."
The pensioner said the pair then began "tossing" items around his flat, before gagging him with cling film.
He said: "It was tied round my mouth and up round my head. They were demanding my PIN number.
"I said no and that is when the violence started. McLellan was doing it and Moir was encouraging it. They smacked me about the face and stubbed a cigarette out below my eye.
"They ground it right into my cheekbone. That's when I gave them the number; I decided I'd rather lose some money than lose an eye."
The court heard Mr Thorburn suffered a lip split, lost a tooth and was burned under his eye.
Planned robbery
The pensioner said: "Moir then went to the local bank and took money out."
McLelland told the court that Moir had "orchestrated" the robbery.
Appearing in the witness box, he said: "Moisie came in disguised, with sunshades a baseball cap and a jumper pulled over his face and asked Mr Thorburn where the money was. Before I knew it I was involved in a robbery."
He said Moir had given him a lit cigarette and told him to burn the pensioner, which he did.
He added: "He orchestrated, manipulated and used me."
Moir, from Perth, denied assaulting Mr Thorburn at his flat and robbing him of bank cards and a set of keys.
However, a jury of seven men and eight women took three hours to find him guilty of the robbery.
Judge Lord Turnbull told Moir he faced a "substantial" jail term over the attack.