Ballumbie golf club in Dundee targeted by fuel thieves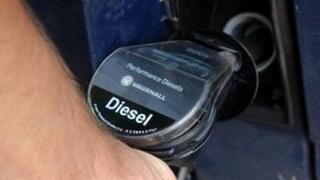 Tayside Police have urged people to be on the lookout for fuel thieves after 1,000 litres was stolen from a Dundee golf course.
Officers said a diesel sump was drained at a yard in woodland at Ballumbie Golf Course between 15:20 on Saturday and 19:30 on Sunday.
The thieves also stole three petrol cans and damaged security lighting.
It is believed a vehicle would have been needed to transport the fuel.
Tayside Police said they were also investigating the theft of diesel from an Iveco lorry parked in Dryburgh Industrial Estate.
The thieves struck between last Friday and Monday.
Police have issued advice for businesses and drivers including using garages when possible and fitting locking caps, alarms and anti-siphoning devices to vehicles.