Thief James Duguid convicted of killing 88-year-old Stirling war hero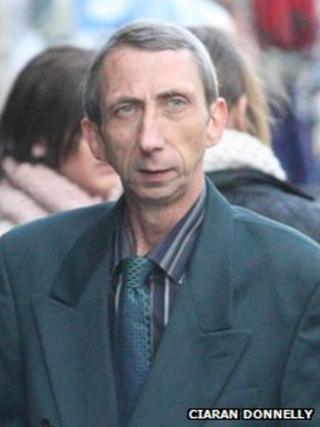 An unemployed man has been found guilty of killing an 88-year-old war veteran in Stirling while trying to rob him.
James Duguid attacked former Royal Navy sailor John Gillespie after he went out for walk on 19 April last year. Mr Gillespie suffered a broken hip and died six days later in hospital.
At the High Court in Edinburgh, the jury convicted Duguid of culpable homicide.
Judge Lady Scott remanded him in custody ahead of sentencing next month.
The court heard Mr Gillespie was taking a stroll during which he looked at daffodils, when the would-be robber confronted him and demanded: "Gie's your wallet."
The veteran, who was mentioned in dispatches for his conduct in World War II, resisted the robbery attempt.
Health deteriorated
But his attacker seized his walking stick and struck Mr Gillespie with it.
The 88-year-old fell to the ground and broke his hip in the incident and died six days later in hospital, on his 64th wedding anniversary.
Duguid was also convicted of attempting to defeat the ends of justice by disposing of the stick which was later found in undergrowth.
The 51-year-old had denied murdering Mr Gillespie following the attack at a pedestrian underpass, at the junction of Lovers Walk, Riverside, Wallace Street and Union Street, in Stirling.
He had told the court: "I didn't even see Mr Gillespie at all."
However, the jury, by a majority, convicted him of the lesser charge of culpable homicide after almost three hours deliberations.
Prison inevitable
Duguid, from Raploch in Stirling, had been on bail throughout his trial.
After the verdict the judge, Lady Scott, told him: "A sentence of imprisonment is inevitable in this case."
She said she would continue the case for the preparation of a background report and remanded him in custody ahead of sentencing next month.
Advocate depute Alex Prentice QC told the court: "It is obvious Mr Gillespie was a man who was very proud of his extended family and was much loved by them."
He said he was "sorely missed" by family and friends and the circumstances that led to his death were hard to bear.