Central Scotland Police issue drink drive warning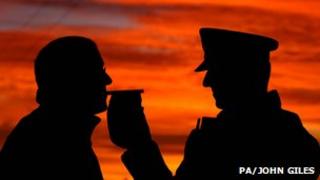 Central Scotland Police have warned motorists there will be no second chances for anybody caught drink or drug driving during the festive season.
The force has said they are taking a zero tolerance approach to the crime
Figures show 242 people were caught drink or drug driving in the force area between 1 April and the end of November.
People caught drink driving face an automatic driving ban, having their car seized and a £5,000 fine.
Ch Insp Brian Johnston, head of the force's Road Policing Unit, said: "We are actively supporting the festive drink drive campaign being run by the Association of Chief Police Officers Scotland.
"My advice to motorists is not to expect any warnings from officers should they be caught drink or drug driving. There will be a zero tolerance approach to this.
"They will be arrested and charged and they can ultimately face a £5,000 fine, an automatic ban and their car could be seized."
"During the first week of the festive campaign, three motorists in our force area were caught over the legal limit. Two of them had been detected as a result of calls from the public.
Public information
Ch Insp Johnston also encouraged the public to alert them if they knew someone was behind the wheel while over the drink drive limit.
He said: "We do act on information received from the public and I am urging anyone who knows of a person driving after having had a drink to call us immediately.
"We will act on it and by phoning us you could potential prevent a serious collision and save somebody's life."
The force also warned of the dangers of driving the morning after heavy drinking, urging motorists not to even think about getting behind the wheel of a car.
Additional patrols
Ch Insp Johnston said: "We are not trying to stop anybody's fun but if you are planning on having a drink, leave your car at home and plan your journey the next day - get a lift or use public transport.
"Reducing collisions and casualties across the Forth Valley continues to be a key focus for Central Scotland Police and over the festive season we will have additional patrols in the communities across the force area.
"We take a zero tolerance approach to those who drink and drive, use a mobile phone or drive at inappropriate speeds. These actions put all road users at risk and our message is simple - don't risk it."