More speed camera sites on the Perth to Forfar road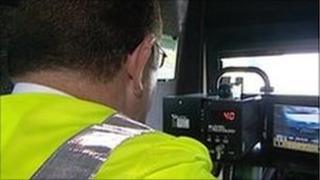 Speed enforcement is to be increased between Perth and Forfar in an effort to crack down on the number of motorists breaking the speed limit.
Tayside Safety Camera Partnership are to use mobile cameras at nine new sites along the A94.
Speed traps had been in place on the A94 between Scone and Coupar Angus since 2003.
Accident figures show there have been 26 crashes on the road between 2009-2011, two of which were fatal.
Perth and Kinross Council is creating a new camera location on the Scone side of Perth Aerodrome and eight new locations have been created on the Coupar Angus to Forfar section of the route.
Extending enforcement
Signage has been put in place along the length of the A94 to alert drivers.
Arron Duncan, partnership manager, said: "Enforcement has taken place on the A94 for the last nine years and recent speed and collision monitoring information has identified a need to extend mobile camera enforcement onto the stretch of the A94 that lies in Angus."
"The A94 is a rural single carriageway road and collisions often occur at bends, dips and junctions and travelling at speed provides drivers with less time to react and increases the severity of collisions and injuries when they occur.
"We have established a route strategy to maintain regular attendance to address this."
A spokesperson for Angus Council said, "We welcome any such moves which help to improve safety for those travelling on our roads. We will continue to support the initiative through our partnership working approach."