Lawyer and book keeper convicted of laundering £1.8m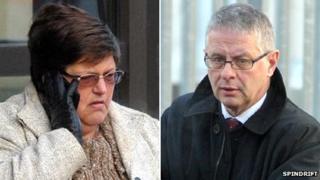 A lawyer and book keeper linked to runaway Stirlingshire fraudster Michael Voudouri have been convicted of money laundering.
Richard Housley, 57, and Caroline Laing, 55, helped Voudouri and his associates hide £1.8m of dirty cash.
The pair were found guilty following a trial at the High Court in Glasgow lasting more than three months.
Housley was also convicted of income tax fraud and a separate charge under the Proceeds of Crime Act.
He and Laing were bailed pending sentencing next month but face jail terms when they appear at the High Court in Edinburgh in March.
The case involved money made by Glasgow-based Q-Tech Distribution Limited.
On the run
It claimed back VAT on bogus Europe-wide business transactions in a scam known as carousel fraud.
Voudouri had originally been due to stand trial along with Housley and Laing, but he pled guilty last year to laundering more than £10m brought in by Q-Tech.
The 45-year-old, who had a previous conviction for VAT fraud, is currently on the run after he later failed to turn up to be sentenced.
The court heard that Housley, who worked at the time for Gebals Solicitors based in Bathgate, West Lothian, first got to know Voudouri in 2002.
Housley was later invited to become involved in a business used as a front by Voudouri and others to hide money from the authorities.
The solicitor told a jury how he was "excited" to be part of Stirling-based clothing firm Labarito Limited as it was "different from the legal profession".
Housley, whose law firm had posted £2m profits, was to earn £25,000 per year as a director.
'Duo duped'
Laing was also involved with Labarito as the firm's secretary.
It was alleged that Housley and Laing transferred money in and out of Labarito bank accounts, with the cash being "criminal property".
Housley, of Edinburgh, and Laing, of Denny, Stirlingshire, were later arrested as a result of a large-scale probe by HMRC into money laundering.
The pair denied their involvement during the lengthy trial, with lawyers claiming that the duo had been duped and that Voudouri had been a "devious fraudster".
Judge Lord Tyre deferred sentencing for reports.
Housley and Laing also face a further hearing in March under the Proceeds of Crime Act.