Ninewells report highlights 'significant concerns'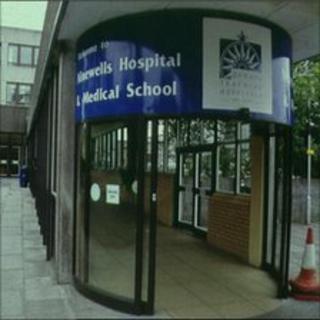 Inspectors have highlighted "significant concerns" over the care of vulnerable and elderly patients at Ninewells Hospital in Dundee.
The watchdog Healthcare Improvement Scotland (HIS) has carried out two inspections in the past three months.
Susan Brimelow, chief inspector for HIS said: "We expect NHS Tayside to address the areas for improvement we have identified as a matter of priority."
NHS Tayside said the majority of recommendations had been implemented.
Inspection teams published the report after they made an announced visit to Ninewells in September 2012 and an unannounced follow-up visit earlier this month.
In September inspectors found patients waiting for long periods in the corridor on trolleys and in wheelchairs.
HIS expressed concern that patients privacy and dignity was being compromised.
Ms Brimelow said: "We observed areas where Ninewells Hospital, NHS Tayside is performing well when providing care to older people. For example, improvements have been made to the ward environment for people with dementia or a cognitive impairment. However, we also identified a number of areas for improvement.
"During our announced inspection, we had significant concerns about the care provided to vulnerable, older people in the acute medical assessment unit. In particular, we were concerned about patients' privacy and dignity being compromised due to the mixed sex facility and the lack of space in the unit.
HIS said work was underway in the hospital to increase capacity and improve the environment, but listed 19 areas for improvement.
Ms Brimelow said: "Our unannounced follow-up inspection assured us that progress is being made to address the issues we identified and that actions are being taken to improve the care provided to patients in this unit. We expect NHS Tayside to address the areas for improvement we have identified as a matter of priority."
Disappointed
NHS Tayside expressed its disappointment at some of the recommendations in the report.
Sandy Watson, chair of NHS Tayside, said: "We would like to reassure our patients and their families that we have addressed the areas for improvement which have been highlighted by the inspectors and already implemented 70% of the recommendations.
"Ninewells is an extremely busy place and sometimes we don't get things right 100% of the time. However, we are committed to making improvements.
"Although the inspectors have made several recommendations, I would again reassure our patients and the public that our teams of frontline staff have made considerable efforts to introduce changes and have made many improvements since the first visit in September."