Dunblane man admits causing fatal Aberdeenshire car crash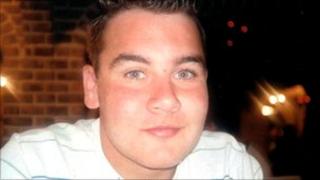 A drink-driver from Dunblane has admitted killing a teenage passenger in a horrific car crash in Aberdeenshire.
At the High Court in Glasgow, James Watson pleaded guilty to causing the death of Brendon Main, 19, by driving dangerously in Newburgh on 24 July 2011.
The 38-year-old had 113mg of alcohol per 100ml of blood in his system. The legal limit is 80mg of alcohol.
Judge Lord Burns agreed to adjourn the case until later this month.
Watson was behind the wheel of a Ford Fiesta when he struck a parked car before losing control and his vehicle overturned.
Apprentice mechanic Mr Main, from Aberdeen, was pulled from the wreckage, but was left so severely injured, he died in hospital.
Michael Smith and Levi Watson, two other passengers in the car, were also hurt.
Alastair Carmichael, prosecuting, asked for the narrative of the facts of the tragic incident to be delayed to allow the 19-year-old's family to be in court.