Abertay University to help young BAFTA winners create games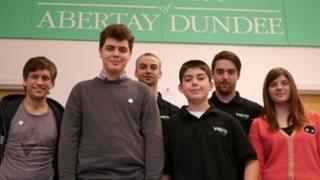 The winners of a contest to find the game makers of the future have been getting help from Abertay University to turn their ideas into actual games.
Teenagers Charlie Hutton-Pattemore and Christopher Purdy won the BAFTA Young Game Designers 2012 competition.
They have been getting help from the university to transform their concepts into computer code.
The prototypes will be unveiled at the British Academy Games Awards ceremony in London in March.
Charlie Hutton-Pattemore, 15, won BAFTA's Game Concept Award for his game Vacuum Panic, aka Suck It Up, while 13-year-old Christopher Purdy won the Game-making Award for Smiley Dodgems.
Gaming careers
The University of Abertay has helped the pair team up with BAFTA 'Ones to Watch' winners Swallowtail Games and GameMaker creator YoYo Games.
Professor Louis Natanson, who leads computer games education at Abertay University, said: "BAFTA and Abertay University have worked closely together for many years and we both share a passionate commitment to encouraging young people to see computer games as a real career opportunity, not just a form of entertainment.
"BAFTA Young Game Designers is a superb scheme to encourage young people to start creating games, to test their ideas on friends and family, and to think hard about how you design a fun and exciting game experience.
"We look forward to seeing both Charlie and Christopher develop their games with Swallowtail Games and YoYo Games and will keep an eye out for them in the future. They've both shown great potential as game designers."
Harvey Elliott, chair of BAFTA's games committee and children's committee, said: "We are delighted that, through our partnership with Abertay University, our two worthy winners are able to work so closely with professional game developers.
"We look forward to showcasing Charlie's and Christopher's prototype games at the British Academy Games Awards in March. No doubt this is just the beginning of their success in the games industry."