Falkirk Council to spend more than £12m on housing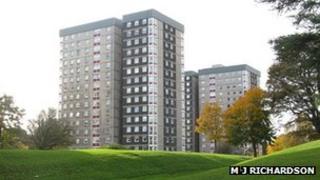 Falkirk Council is to spend more than £12m on improving the area's housing stock.
The authority's policy and resources committee has approved three major projects in Falkirk and Grangemouth.
Work is set to commence on a £6.23m plan for 56 new properties in Grangemouth and a £5m upgrade of Falkirk's Leishman and Marshall Towers.
The council will also spend £1.12m upgrading gas heating in more than 500 homes.
The new houses in Grangemouth will include a mix of 44 two and three bedrooms flats and 12 three and four bedroom terraced houses and are expected to be completed by October 2014.
Improved stock
The renovation of Leishman and Marshall Towers will see the buildings entirely reclad in order to enhance their energy efficiency.
Work will also be done to provide additional accommodation and improve communal areas.
The project will start this month and be completed by May 2014.
Councillor Craig Martin, convener of policy and resources, said: "The ongoing investment programme we have for the construction of new properties is providing families and individuals the prospect of getting an attractive and affordable home for rent.
"We are committed to meeting national standards by 2015 and our replacement programme that brings new central heating systems to over 500 properties will help us reach this ambitious target."