Kirriemuir can to feature in Canadian heritage museum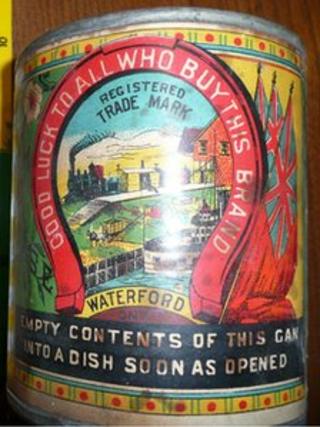 A 120-year-old can found in a Kirriemuir house is to become the key piece of a museum collection in Canada.
The brightly labelled tin, which contained apples in their own juice, was produced by Bowlby Bros & Co in Waterford, Ontario in the late 1800s.
However, the town's Waterford Heritage & Agricultural Museum, have no cans with the existing labels on them.
The find has now been gifted to the museum by the Kirriemuir Heritage Trust.
The old tin was found in a house in the Angus town during some renovation work, among boxes of old glass photographic negatives.
David Orr from the Kirriemuir Heritage Trust said that they originally thought the images would prove the most interesting of the items.
Unique can
Mr Orr said that the tin's importance became quickly obvious when he contacted the curator of the Waterford Heritage & Agricultural Museum, Milissa Collver.
He said: "It was odd that they were interested in a old can, quite bizarre."
Ms Collver told him that the museum had been created inside the old cannery buildings, but despite its relation to the old Bowlby Bros & Co factory, they did not possess any cans with contemporary labels on them.
She said: "We were aware that product from Bowlby's was shipped to Scotland.
"Waterford Heritage & Agricultural Museum doesn't have an original can with a label on it so we are very pleased to know that there is at least one still in existence.
"Of course, we prefer to think of it as a Canadian treasure rather than Canadian rubbish."
Mr Orr said the Waterford Heritage & Agricultural Museum had asked if the Kirriemuir Heritage Trust would loan them the can for a few months, but he felt he had a better solution.
"My intention is to post it across to Waterford. It will be the main feature of their main exhibit that they already have on the canning factory."
He added: "It should have been thrown away 100 years ago, but by a strange quirk of fate it has survived."