Falkirk Council approves 'ambitious' spending plans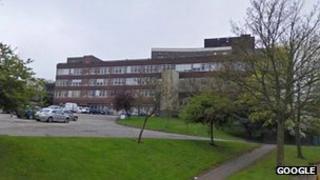 Falkirk Council is to focus on housing, local infrastructure and investing in the economy after approving its "ambitious" budget for next year.
The authority backed a three-year £75.5m spending programme, with another £115m marked for housing.
Proposals include a £10.2m Tax Incremental Finance initiative to spur economic growth in area.
The council said it had managed to preserve frontline services despite financial pressures.
However, the local authority has needed to put up rents and increase a raft of charges, including school meals and parking, in its bid to stay in the black.
Council tax was frozen for the sixth successive year, making the rate in Falkirk one of the lowest in Scotland with a band D level of £1,070.
Protecting services
Council leader Cllr Craig Martin said: "Facing up to a funding shortage of nearly £11m means that we have had to examine closely where our priorities lie."
"Frontline services have been prioritised and we continue to make efficiency savings across all areas of our work."
Growing the local economy has been one of the main priorities for the authority, with the council aiming to create over 5,000 new local jobs through the Tax Incremental Finance initiative.
It is also spending £1.6m on business property reinvestment to encourage economic growth and £4.15m on regeneration of Denny town centre.
Other spending plans include £12.3m going towards roads, bridges and street lighting improvements; nearly £1m on new parking near Falkirk High station to encourage greater use of public transport.
Councillors also plan to invest £8m on schools throughout the authority area, with an additional £2.9m put towards extensions to Antonine and St Joseph's primaries.
A new school will be built at a cost of £6m to replace the existing Carrongrange School.
Almost £1m will be spent on the restoration of the Kinneil Kerse landfill and £830,000 on providing additional internment space in cemeteries.
Local play parks are also to be upgrade at a cost £280,000, while £640,000 will be spent on flood prevention assessments in Grangemouth.
Councillor Martin added: "Fees and charges are rising across a number of areas but we have aimed to keep these as low as possible and in some cases, they will remain frozen.
"Overall it is an ambitious programme but one we feel that will deliver real prospects in the coming years."