Polmont Young Offenders Institution 'yet to reach potential'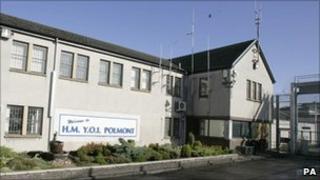 A report into Polmont Young Offenders Institution near Falkirk has said it has yet to reach its full potential.
HM Chief Inspector of Prisons Brigadier Hugh Monro said a lack of continuity in leadership had hindered Polmont's effort in helping to reduce reoffending.
However, he said there were many good examples of positive work going on.
The Scottish Prison Service (SPS) said it accepted more needs to be done to fully engage young offenders.
In his latest report, Brig Monro said while there were examples of new and interesting work going on to inspire young people at Polmont, the facility had not yet reached its potential either as a young offenders institution or as a major part of the Reducing Reoffending Programme Phase 2 (RRP2).
However, the chief inspector was mainly positive about the work being carried out at the facility.
Lacking encouragement
He praised good relations between staff and young offenders, noted that the facilities were good and that offenders had access to some high quality instructors and teachers.
But Brig Munro said the regime did not motivate or encourage young offenders to get out of bed and take part in purposeful activity.
He said: "The report shows that Polmont has many advantages as an establishment that will ensure it improves and goes from strength to strength.
"Before the inspection I had taken a particular interest in the way that young offenders are rehabilitated so they have the best opportunities to succeed on release.
"Blair House, the most modern residential hall at Polmont, which was set up for the 16-18 year olds is key to this, along with the Throughcare links with outside agencies which have been set up."
Stability needed
Brig Monro added: "But the lack of continuity of leadership at Blair House since 2010 is disappointing given the importance of the unit and the level of resources provided, some from charitable trusts, and that may be largely responsible for the unfulfilled potential on RRP2."
The Chief Inspector said he believed a three year period of "frequent management changes" was the most likely reason for the lack of progress.
He has suggested a period of stability to enable progress to be made, particularly in the area of access to purposeful activity.
SPS welcomed the report and said it agreed with the chief inspector that more needs to be done to fully engage offenders in custody in order to "maximise their potential for positive change".
The prisons' body said in response to the report it was now working to transform Polmont into a properly resourced education and training college.
Colin McConnell, chief executive of the SPS, said: "We now have a real opportunity to take a grip of the issues and to improve the life chances for young offenders who as young citizens have such great potential for change and future achievements.
"I look forward to working with colleagues and partners to make this compelling vision a reality."