Man accused of attempted armed robbery at Dundee travel agents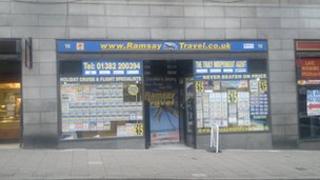 A man has been remanded in custody, accused of an attempted armed robbery at a Dundee travel agents shop.
Darren Anderson faces charges of assault, attempted robbery, reset and possessing a knife in a public place following an incident at Ramsay's Travel store on Monday morning.
The 23-year-old made no plea or declaration when he appeared on petition at Dundee Sheriff Court.
The case was continued for further examination.
Mr Anderson was remanded in custody and is expected to appear in court again next week.
He was arrested on Monday in connection with the incident at the Chrichton Street store.
Tayside Police said a man had entered the shop, threatened a member of staff with a weapon and demanded cash.
When he was refused, he ran off. No-one was injured during the incident.