Dundee trading standards issues illegal tobacco warning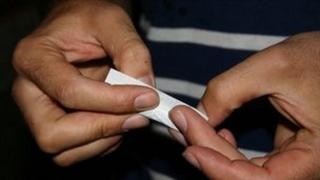 Trading standards officers in Dundee have issued a warning over illegal tobacco sales after an investigation into stock seized during raids.
Officers carried out a series of checks on tobacco which had been confiscated in the city inthe past month.
They found a large number of the illegal traders were under-filling pouches of tobacco by 25%.
Trading standards also warned that in many cases the tobacco sold was an inferior product.
Trading standards officers said the packaging of the illegal tobacco had been doctored to look like duty free product as a way of explaining the low cost.
False weights
However, they found what was being sold was an inferior substance with no relationship to the legitimate manufacturer.
Councillor Craig Melville, convener of Dundee City Council's environment committee, said: "After our officers made the seizures they checked the weight of what was being sold.
"They found that the traders in this illicit tobacco, which sells for between £5 and £7 for a 50g pouch, are cheating customers by under-filling them by around 25%.
"When they're overcharging by as much as £1.75 per pack, this double-dealing is obviously increasing their profits."
Industry concern
Officers are also warning people of the possible risks of buying unregulated products, with past seizures uncovering tobacco found to contain up to 30 times the amount of lead than that in genuine products.
Mr Melville warned the illegal trade was a significant problem.
He added: "Because this sort of business is done in the shadows it is very difficult to tell how widespread it is.
"But it is prevalent enough that last summer the Tobacco Retailers Alliance said that one in 11 corner shops in Scotland was under threat because of it and local newsagents were also expressing their concerns."