Clackmannanshire Council buys new kit to combat chewing gum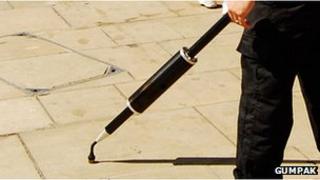 Clackmannanshire Council is turning to technology in an effort to clean chewing dropped on the area's streets.
A £7,000 Gumpak system uses a mix of steam and detergent to remove the gum from pavements.
The portable cleaner is comprised of a back pack and a "lance" and is more environmentally friendly than a traditional pressure washer, which can use up to 40litres of water per minute.
Removing chewing gum from streets costs UK authorities more than £150m a year.
The council's environmental services said they had tried a number of unsuccessful methods to blast the sticky material from town centre pavements in the past, but that the new Gumpak system was working well.
Proper disposal
Councillor Donald Balsillie, convener of the enterprise and environment committee, said: "I know that residents and local businesses find discarded chewing gum a real eyesore and I am delighted to learn that an effective method of removing it from our town centre pavements has been found.
"The amount of chewing gum discarded and disfiguring our streets is a disgrace. I don't think it's too much to ask people to dispose of their gum properly in a litter bin.
"We recently introduced £50 fines for people dropping litter, including chewing gum, so this is the next stage of our ongoing battle to improve the appearance of our community as well as remove the nuisance it causes."
Effective results
He added: "We'd much rather be spending this money on other things but so long as people continue to deface our town centres and create a nuisance for others, the council has a responsibility to clean up after them.
"We have tested other machines in the past, none of which have been effective, however this equipment is being successfully used by a number of other councils, and does remove gum.
"We believe it can also remove graffiti and bill posters, which will ensure Clackmannanshire's streets are as clean as possible."