Stirling Council's budget focused on protecting services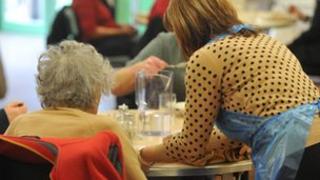 Stirling Council has said it has focused on protecting services as it approves its budget for the next 12 months.
The authority said it was also determined to maintain jobs while at the same time delivering savings of £9m in the coming year.
Spending plans include investment in next generation broadband and a new public square at Forthside.
Council rents are also set to go up by 3.2%.
The authority said key priorities included ensuring there were minimal voluntary redundancies among staff and that the social care services budget was protected, and freezing nursery fees and charges at 2012 levels.
Services protected
As well as investing in broadband, the council will spend £1.5m on a new public square at Forthside and nearly £5m over the next four years on refurbishing St Margaret's Primary School in Cowie and St Ninians Primary School.
Council leader Corrie McChord said: "This budget focuses on protecting the vital services Stirling Council provides for children, families, older people and our most vulnerable citizens.
"This must be our priority as we face continuing economic challenges across local government and the public sector."
He added: "At the same time we are committed to doing everything possible to protect the jobs of the council's lowest-paid staff.
"Voluntary redundancies have to be part of our measures, but we already have enough volunteers to reduce the workforce by the necessary 100 posts.
"The decisions the council has taken have been hard, but they show the way forward as we continue to take the action necessary to achieve a savings target of £9m in the coming year and £24 million over four years."
Challenging process
Council tax remains frozen with the average Band D council tax unchanged at £1,197, however rents are to increase by 3.2% putting the average rent at £61.51 per week from 1 April 2013.
Partnership administration portfolio holder for finance, Cllr Neil Benny, added: "Setting the council's budget is a rolling process, involving examining every single line of expenditure to find ways to meet our savings challenge.
"We will stand up for the services that people care about and make the council as efficient as possible.
"In the future, with scarce resources, services need to be more flexible to adapt to changing circumstances. The budget for next year, along with our package of fundamental service reviews, will deliver on a new, more flexible and better-run Stirling Council."