BP tanker drivers continue Grangemouth strike action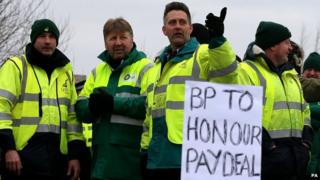 Industrial action is being held by more than 40 BP tanker drivers at the Grangemouth oil refinery.
The drivers walked out on Friday morning in a dispute over pay and pensions, with action due to end at 08:00 on Monday.
The Scottish government said it was unaware of any issues for consumers arising from the strike.
Grangemouth plant owner Ineos also said its operations would continue as normal.
Unite, which represents the striking workers, said 90% of the 42 tanker drivers balloted had voted for strike action following an aviation contract transfer from BP to DHL.
The union said drivers were set to lose £1,400 a year in pay and as much as £100,000 from the value of their pensions as a result.
It claimed the industrial action would hit aviation supplies and deliveries to BP forecourts across Scotland and the north east of England.
A second four-day strike is due to begin on 28 February if there is no settlement in the dispute.
A BP spokesman said: "Our priority remains the safe delivery of fuel products to all our customers.
"We have been working to, and continue to work to, minimise any potential disruption the industrial action planned for this weekend at Grangemouth could cause."