Council launches Alloa fly tipping crackdown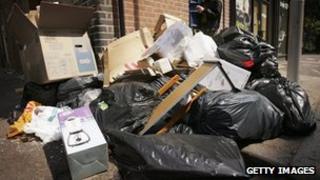 Clackmannanshire Council is warning residents in parts of Alloa that it is taking a zero tolerance approach to fly tipping.
The authority is launching a crackdown on the illegal dumping of rubbish in the south and east of the town.
Community wardens, along with the Waste Services Team, will be using CCTV to monitor the area for offenders.
The council said anyone caught fly tipping can expect legal action to be taken against them.
Offenders face a fine of up to £2,500.
Letters have been written to residents in Alloa South and East to warn them about the crackdown.
Personal responsibility
Enterprise and Environment convener, Councillor Donald Balsillie said: "It appears that some people think that waste left by the side of the road will be picked up by the council - this is not the case.
"Any waste other than what is in a wheelie bin or blue box is regarded as fly tipping or illicit dumping and is an offence.
"It is a householder's responsibility to dispose of their waste in a proper manner. Do not leave it on the street, even next to a bin, expecting it to be picked up."
He added: "I see this initiative as necessary to tackle dumb dumpers. It is an important pledge of this administration to take a no nonsense, no tolerance approach to fly tipping.
"This is one of many initiatives we will be taking to turn around the attitude of the minority who do not respect their local environment."