Grangemouth tanker driver strike called off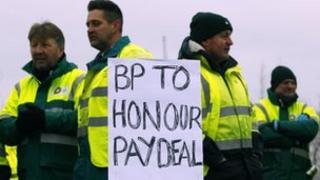 A dispute between tanker drivers and BP over pay and pensions at the Grangemouth oil refinery has been settled, a union has said.
More than 40 drivers walked out on a three-day strike on Friday.
But the Unite union said an agreement had now been reached and a further four-day strike due to begin on Thursday had now been cancelled.
Unite said BP had now "done the honourable thing" following fresh negotiations.
The dispute had centred on claims that the tanker drivers would lose up to £16,000 a year on their pension value and £1,400 a year on their basic earnings as a result of an aviation contract being transferred from GBP to DHL.
Recompense drivers
Unite said that BP would now recompense drivers who stood to lose out.
The workers, who will transfer imminently from BP to DHL, will receive the full value of the BP share-match scheme as an indefinite monthly payment and deals have also been agreed to cover losses to pensions as a result of the contract transfer.
Unite industrial officer Tony Trench said: "This is a magnificent result for our members, who were resolute in their pursuit of pay and pension justice from BP - a company that raked in nearly £8bn in profit last year - and firm in their collective belief that no worker should have to endure financial loss as a result of a transfer of employment.
"We've faced down the fourth biggest company in the world over the basic principle of fairness.
"We said from the outset we were always prepared to negotiate and that, after Friday's 72-hour strike action, the ball was firmly in BP's court to end the dispute by doing the right thing. It has done the right thing."