Policeman cleared of nightclub assault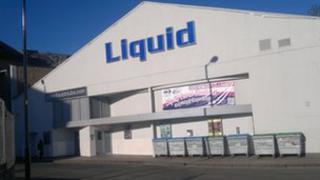 A policeman accused of battering a nightclub bouncer with his baton has walked free from court.
Sheriff Kenneth McGowan said hitting Nawras Alwan five times with the implement outside Dundee's Liquid nightclub was "justified".
PC Douglas Fisher, 39, had intervened after a fight broke out involving Mr Alwan, his brother and another man.
"Mr Alwan did not respond to commands that were being given," said Sheriff McGowan in ruling Mr Fisher not guilty.
"In my view, it can't be said that the means adopted by Mr Fisher were wrong.
"It was only when he faced Mr Fisher and put his hands up that he showed positive signs that he was complying."
'Difficulty walking'
PC Fisher, who is also a lieutenant in the Territorial Army and served time in Afghanistan during which he decorated for bravery, denied the assault during the incident in Dundee's South Ward Road on 23 October 2011.
Mr Alwan, who was employed as a bouncer at Liquid until the incident, earlier said he had stopped his involvement in the fight as soon as he realised police were on the scene.
The 28-year-old said his right leg was left severely bruised below the knee and behind it and that he had difficulty walking for two months afterwards and that it had left him emotionally scarred.
PC John D'Ambrosio, an "officer safety training co-ordinator" with Strathclyde Police, told the court that Fisher, who once won £15,000 in an employment tribunal against his own police force, had used "excessive force".
"On viewing the footage there's no act of resistance that I can see," said PC D'Ambrosio.
"After the first strike the male was submissive.
'No necessity to continue'
"He was backing away from the officer.
"In my opinion, from seeing the video, I would say it was excessive to continue with the strikes.
"I don't think there was a necessity for the officer to continue."
However, Mark Stewart QC, defending, argued that, in the situation, Fisher was entitled to use his baton to take control.
PC Fisher won an employment tribunal in 2006 after being threatened with dismissal when he raised concerns about officers going out on the beat alone.
He later served as a platoon commander of 34 troops during a six-month tour of duty in Afghanistan.