Johanna Boyd becomes new leader of Stirling Council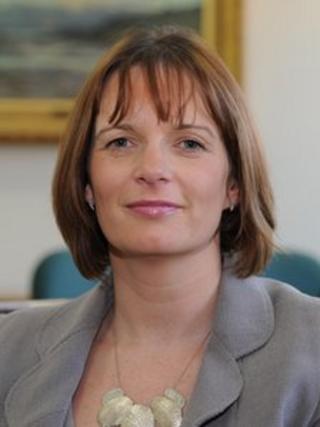 Labour's Johanna Boyd has been elected leader of Stirling Council.
Councillor Boyd paid tribute "to the outstanding contribution of Councillor Corrie McChord, who has decided to step down from this role".
Stirling Council believes that, at 37, Mrs Boyd is the youngest council leader in Scotland.
The qualified barrister is one of only two current female leaders, the other being Rhondda Geekie of East Dunbartonshire Council.
She also is the first woman to lead Stirling Council since its creation in 1995.
Mrs Boyd leads a "partnership administration" of eight Labour and four Conservative councillors formed following the local elections in May.
Following the council meeting at which she was appointed, she said: "Since last May, Stirling's partnership administration has worked hard to agree 18 key priorities and make sure the council is focussed on delivering these.
"The new committee structure that we have put in place tonight will support this work and ensure that our policies are approved and acted upon."
As the council set its budget for the next 12 months last week, it said its priority was protecting services, maintaining jobs yet delivering savings of £9m.