Egypt hot-air balloon tragedy: Survivor Michael Rennie flies home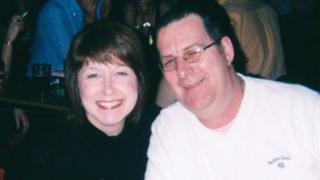 A British survivor of the Egypt hot-air balloon tragedy has returned to the UK after being discharged from hospital.
Michael Rennie, 49, from Perth, had been receiving treatment in a Cairo hospital since Tuesday's crash near Luxor.
His wife Yvonne, 48, was among the 19 people killed.
Joe Bampton, 40, from London, and his Hungarian-born girlfriend Suzanna Gyetvai, 34, also died.
Mr Rennie was on holiday with his wife Yvonne when a balloon flight promising spectacular views over the Valley of the Kings - ended in disaster.
When fire broke out, the 49-year-old jumped from the balloon's basket but Mrs Rennie, who was 48, was among 19 tourists killed.
Mr Rennie left hospital in Egypt on Friday and flew into Heathrow airport just before 21:00.
He was expected to fly back to Scotland on Saturday.
Earlier, Mr Rennie paid tribute to his wife.
In a statement, issued by the Foreign Office on his behalf, he said: "Yvonne was my rock, my friend, my shoulder to cry on. She was my world."
He added: "My heartfelt condolences go out to the other families that have lost relatives around the world in this terrible disaster."
Mr Rennie also thanked staff at hospitals in Cairo and Luxor, the British Embassy and travel company Thomas Cook for their help.
Other relatives have paid tribute to Mrs Rennie, 48, from Perth, as "very popular and well-liked".
Loud explosion
The Egyptian authorities have grounded all hot-air balloon flights in the country, while they investigate the incident.
The balloon is said to have been 1,000 ft (300m) up when it exploded, caught fire and fell on to agricultural fields.
Witnesses described hearing a loud explosion before seeing plumes of smoke as it caught fire. They also reported seeing people jump out of the balloon.
Mrs Rennie had worked as a senior administrative officer at Perth Royal Infirmary. It is understood her husband is employed in the construction industry.