Dundee's pay-by-phone parking to be rolled out across the city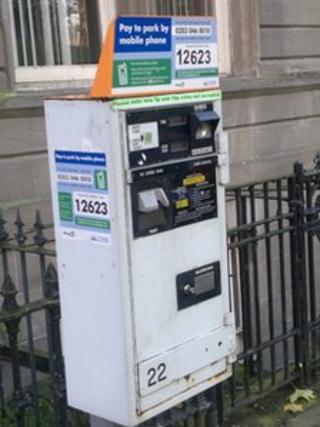 A pilot scheme that saw Dundee drivers pay for parking spaces by mobile phone is being rolled out across the city.
New meters that allow motorists to pay for parking by card, cash or mobile phone have been trialled by the council since 2011.
There are now 71 new on-street meters currently operating in Dundee, with another 40 on the way.
Dundee City Council said the meters saved time and improved usability for motorists.
As part of the rollout, pay-on-foot meters have also been put in at Gellatly Street multi-storey car park, adding to the number of places drivers can pay by card, cash or mobile phone.
Will Dawson, convener of Dundee City Council's city development committee, said: "We are in the process of buying and installing 111 new meters during this and the next financial year and that will improve the usability of pay and display parking for motorists.
"As well as being able to pay with cash, the machines also allow drivers to purchase parking by debit/credit card or by phone if they wish.
"From an operational point of view all meters are networked to the parking office and the team will be able to collate information on usage patterns and identify faults and other statistics from a central location."
The park-by-phone system has also been made available at 16 off-street car parks and five long-stay car parks throughout the city.
Informed wardens
Councillor Dawson added: "With the improvements at Gellatly Street and the new on-street meters we have invested more than £300,000 to help businesses and visitors by making the parking process easier and encouraging people to stay in the city centre for longer."
The meters are monitored by a centrally-monitored computer which relays information to parking attendants, who can get up-to-the-minute information on the status of any parked vehicle.
Gellatly Street's central control hub will also be linked to the city's three most recent multi-storey car parks, including the new Olympia facility which will open later this year.
The council said that having CCTV, barrier and payment systems controls delivered from a single point would allow automatic number plate detection and ticketless entry/exit for season ticket and blue badge holders and would also increase security.