Rescue helicopter winches injured walkers from Stirlingshire mountain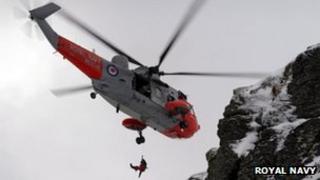 A Royal Navy helicopter has rescued two hillwalkers from a Stirlingshire mountain after one of them suffered a leg injury.
The pair had got into trouble on Sunday evening after the female walker fell 650ft (200m) down the slopes of Ben Oss, near Crianlarich.
A helicopter from HMS Gannet was sent to rescue the couple after the alarm was raised at about 17:15.
The pair were then taken to hospital in Glasgow for treatment.
The male walker had tried to help his colleague and also slipped, suffering minor injuries.
Wire rescue
When the Royal Navy helicopter crew arrived at the scene at 17:50, they were unable to land due to the terrain.
Killin Mountain Rescue Team had also been scrambled, but were not yet on scene.
It was decided to lower the aircraft's navigator, Lt Cdr Rob Suckling, by wire before winching the pair up into the helicopter.
Lt Cdr Suckling said: "We were in a hover at about 2,000ft, so I reckon she must have fallen from a little over 2,500ft up on the mountain.
"Visibility at the site was not too bad, but it was bitterly cold and there were snow showers to contend with.
"The two of them were well equipped but cold and, with darkness falling rapidly, we really wanted to get in and out of the scene as quickly as possible."
Dangerous conditions
He added the crew was aware that speed was of the essence.
He said: "Obviously the temperature was plummeting, in my opinion, they certainly wouldn't have survived on the mountain overnight and, with her leg injured, there's no way she could have walked off the hill."
The two walkers were handed over to the ambulance service in Glasgow before the helicopter returned to base.
The Royal Navy said the rescue marked HMS Gannet's 60th emergency sortie of the year to date.