Crieff Police office will not relocate to Strathearn campus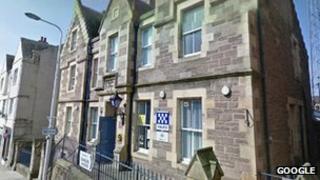 Tayside Police has decided not to relocate Crieff Police Station to new offices at the Strathearn Community Campus.
The force had been considering the move because the existing town centre building contained a number of unused areas and was no longer fit for purpose.
The Crieff station has been situated in King Street for 100 years.
Other sites for the new office will now be considered.
Tayside Police had said any move would only take place if the associated costs, including ongoing costs, were not prohibitive.
They also stressed that the re-location would not result in a reduction of police resources.
Lost opportunity
Insp Iain Ward said: "I am obviously disappointed about the outcome as I firmly believe this would have provided great opportunities for the community and the police to engage as policing moves forward.
"I also acknowledge the results of the consultation results, with community representatives being strongly against the move. I would like to thank those who became involved in the various groups and discussions and for showing their genuine interest in the way public services are delivered in the area, and their shared vision for Crieff especially.
"Tayside Police will become part of the Police Scotland on 1 April 2013 and my focus will be on maintaining the highest possible standards of policing."
Local relief
The decision has been welcomed by local residents.
MP for Ochil and South Perthshire Gordon Banks said: "I have to say that I am relieved that they have reached this decision not to relocate the police station from Crieff town centre to Strathearn Community Campus.
"I said at the outset that I thought that this would be a negative move, it is good to have a police presence in the town centre. It is also reassuring to know that they listened to what the public thinks via the consultation process.
"Whilst I understand that Tayside Police will now look at other alternatives I do hope that any solution will result in at town centre police presence in the future."