Work starts on Dundee's new £1.7m "creative" district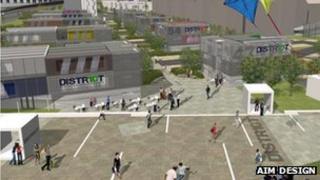 Work has started on a new £1.7m development dedicated to supporting Scotland's creative industries sector, as part of the redevelopment of Dundee.
District 10 will be built at Seabraes Yard and will feature offices constructed from recycled shipping containers.
It is expected to create nearly 40 jobs and generate up to £10m for the local economy over the next 10 years.
Construction is expected to be completed by this summer.
The project has been jointly funded by Scottish Enterprise, the European Regional Development Fund, Tayside charity Matthew Trust and the Scottish government.
Exciting development
Scottish Enterprise director of business infrastructure, Allan McQuade, said, "District 10 is an exciting new development that will stimulate economic growth both for Tayside and the wider Scottish economy by further enhancing Dundee Waterfront's reputation as a first-class location for business.
"The Creative Industries sector has long been an integral part of both the regional and national economy, with our Arts and Creative Industries companies contributing more than £3.2bn to the Scottish economy.
"Dundee already has a fantastic reputation for creative companies developing innovative products, like the record-breaking Minecraft for XBox 360 from 4J Studios and Brightsolid's work on findmypast.com, as well as being the birthplace of The Beano and Lemmings game."
He added: "District 10 has been designed specifically to meet the needs of these early stage businesses in the sector that require flexible accommodation which will allow them to grow as part of a vibrant creative industries community."
District 10 is one of £100m worth of capital projects being started or completed during 2013.