Service for balloon crash victim Yvonne Rennie to take place in Perth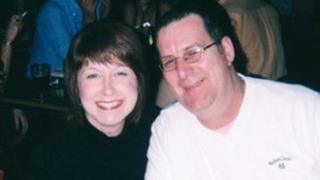 The funeral of a Perth woman killed in a balloon crash in Egypt will take place later this week.
Yvonne Rennie, who worked as a senior administrative officer at Perth Royal Infirmary, was among 19 people killed when a hot air balloon exploded near the city of Luxor on 28 February.
Her husband Michael, 49, was one of two survivors.
The service for the 48-year-old will take place at Perth Crematorium on Thursday at 11:30.
Mrs Rennie was on holiday with her husband when the balloon flight over the Valley of the Kings ended in disaster.
A fire broke out midflight and Mr Rennie managed to jump from the balloon's basket but Mrs Rennie was killed.
The Egyptian authorities have grounded all hot ir balloon flights in the country, while they investigate the incident.
The balloon is said to have been 1,000 ft (300m) up when it exploded, caught fire and fell on to agricultural fields.
Witnesses described hearing a loud explosion before seeing plumes of smoke as it caught fire.
In a statement, issued by the Foreign Office on his behalf, Mr Rennie said: "Yvonne was my rock, my friend, my shoulder to cry on. She was my world."
He added: "My heartfelt condolences go out to the other families that have lost relatives around the world in this terrible disaster."
Mr Rennie also thanked staff at hospitals in Cairo and Luxor, the British Embassy and travel company Thomas Cook for their help.
Other relatives have paid tribute to Mrs Rennie as "very popular and well-liked".