Dundee worker given one of Scotland's highest unfair dismissal payouts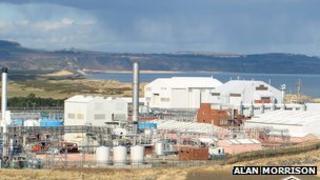 A Dundee construction worker has been awarded one of the highest unfair dismissal payouts in Scotland.
An employment tribunal has ordered Kitsons Environmental Europe Ltd of Warrington to pay David Galloway £76,200.
The total is £7,800 above the prescribed limit of £68,400, but was awarded due to his "loss of earnings".
Mr Galloway had been sacked for "gross misconduct" in March 2011 while working at a factory in Montrose.
He was one of three Dundee employees fired by the company after inspections found they had been claiming for eight hours' work at weekends during periods when they had not in fact been at the GlaxoSmithKline plant.
All three claimed their dismissal had been unfair citing a previous agreement which permitted workers to be paid for a day's work every weekend regardless of whether it was actually done.
One of workers, chargehand insulator James Heggie, was awarded just over £16,000 by the tribunal.
The third, advanced scaffolder Brian Russell, is understood to have agreed a settlement with Kitsons.