Montrose Museum seeks Adam Christie stone heads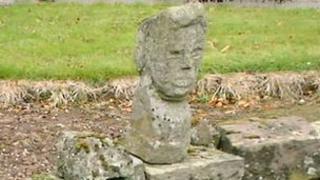 People in Montrose are being asked to check their homes and gardens for stone heads.
The town's museum believes local residents may be in possession of one of 200 sculptures by the Shetland artist Adam Christie.
The stone busts were rescued during the demolition of the Old Suspension Bridge in 1928.
An exhibition Mr Christie's life and art is due to open at Montrose Museum in the summer.
The Shetland-born artist created the sculptures during his time at the town's Sunnyside Hospital.
He spent 50 years at the institution after developing depression at the age of 32.
Rudimentary tools
Mr Christie became known for his numerous sculpted forms, mostly heads, which he carved from large stones he found in nearby fields.
The heads from the bridge are mainly self-portraits and characters from the Bible, and all 200 of them were fashioned using homemade tools such as files, six inch nails and sharp fragments of glass.
Montrose Museum said many of his works would be found in gardens in Hillside and Montrose.
It is keen to receive images of the heads and any of his other works to include in the exhibit.