Dundee man to face reckless electricity generating charges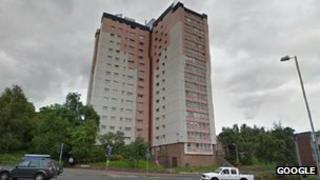 A Dundee man is to stand trial accused of "recklessly producing household electricity" in a 14th storey flat using a home-made generator system.
Charles McKenzie faces a charge of culpable and reckless conduct over claims he rigged up a DIY power station in his flat in Dundee's Dudhope Court.
Dundee Sheriff Court was told he had created a "dangerous man made transformer assembly".
The 55-year-old denies the charge.
Mr McKenzie's make-shift system is said to have involved a fuel generator suspended from his ceiling by ropes.
He is accused of connecting the generator to a 12 volt car battery and an inverter, used to transform power from DC to AC, and then to an extension lead.
Prosecutors say he showed a "total disregard for the safety of yourself and others and to the danger of the lieges".
Mike Short, defending, said "He pleads not guilty to the charge."
Sheriff Richard Davidson set a trial date for early next month.