Wife of missing Arbroath marine urges him to come home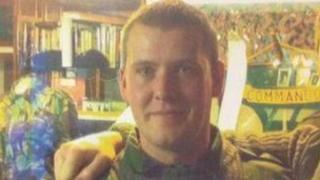 The pregnant wife of a Royal Marine has urged him to come home after he disappeared while out running in Arbroath.
Ralph Hebden was last seen at Morrisons supermarket at about 08.30 on Monday.
His wife Sarah, who is due to give birth in two weeks, said she was extremely worried.
Tayside Police said the 32-year-old, originally from Toxteth in Liverpool, had left with the intention of going on a run around local cliffs.
A large scale search of the Angus coast was launched for Mr Hebden on Monday night involving RAF helicopters and coastguard staff.
Police said the search was continuing in and around Arbroath.
Much missed
Sarah Hebden said: "As time goes by we are all extremely worried about you and concerned for your safety.
"Our baby is due in a couple of weeks and we need you home with us both. Your family and friends love you very much.
"Please come home or contact any of us to let us know you are safe.''
Police said Mr Hebden's disappearance was "out of character".
Officers from the Tayside have been handing out leaflets in Arbroath as part of the search and are reviewing CCTV.
Police are not discounting that Mr Hebdon may have travelled to the Merseyside area where he has friends and family, and are working closely with Merseyside Police who are assisting with inquiries.
The marine, who is based at RM Condor, is described as 6ft 4in tall, of muscular build, with short cropped fair hair.
When he was last seen he was wearing black trainers, dark blue or black jogging bottoms, a blue fleece and had a blue rain jacket.
Police are also keen to establish the identity of a man who appeared to match Mr Hebdon's description, and was seen by a runner at Arbroath cliff's at around 09:00 on Monday morning.