Romance rekindled via internet leads to death threat and jail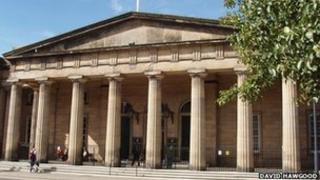 A man has been jailed for 27 months having threatened to murder his school sweetheart after rekindling the romance with the grandmother via the internet.
Thomas Balmer, 44, from Ayrshire, was also handed an Asbo to restrict contact with Susan Hamilton for five years.
Balmer admitted threatening to kill Mrs Hamilton at her Perthshire home by putting "a bullet in her brain".
Perth Sheriff Court heard that the mother of five's family blame Balmer for the break-up of her marriage.
Fiscal depute Charmaine Cole said: "The background is that, when they were teenagers, they were in a relationship for about two years until it ran its course.
"When she was 18, she moved away. She then married and had five children. She didn't have any contact with the accused during that period.
"Around 2011, she began to suffer from depression and her marriage was having difficulties.
"She then joined the social network site Facebook and saw that the accused had a profile.
Text message
"Contact was instigated and they began to communicate with each other. She and her husband then separated and she entered a relationship with the accused.
"In 2012, she told the accused the relationship was finished and she didn't want anything further to do with him.
"On 18 December, she received a text message from the accused."
In the text, Balmer, from Cumnock, said: "Susan, this is really hard for me. You would need to be dead for me to move on. I have never felt this way about anyone outside of my family and my son.
"You may be able to forget about me after weeks, but I can't and don't want to.
"One of us will have to die for the other to get on with living a normal life.
"I mean that and it will have to be sooner than later. Would you prefer it was me? If so text 'yes' and I will make it so."
'Particularly menacing'
Ms Cole said the victim was "beside herself with worry and terrified" even before matters escalated with a message left three days later on her answer machine.
"She immediately recognised it was the accused who left the message," she said.
Balmer said: "You're gonna die soon. I'm going to put a bullet in your brain. It's coming."
The court was told that the call was made in a calm voice that was "particularly menacing".
Solicitor Robert Logan, defending, said: "Whether it's true or not, the complainer's family blamed the accused for breaking up the marriage.
"It seems she was concealing the relationship from her family.
"Their original relationship took place at school. Contact was made by Mr Balmer and they entered a deep relationship during 2012. His house was full of her clothes and pictures.
'Drinking more'
"He and his friends believed this relationship was leading towards marriage. That's what he thought."
Mr Logan said that, towards the end of 2012, she felt under pressure, especially from her daughter, who referred to Balmer in derogatory terms, that she could not continue the relationship.
"She was also under pressure to ask her husband back to the house for Christmas dinner and all of that was making him more and more maudlin and anxious," he said.
"He dealt with that by drinking more and more. He has no recollection of events at all.
"To his credit, he was appalled and ashamed of himself, that he would say something like this to the woman he loved. All he can do is tender his sincere apologies."
Sheriff Alasdair Brown concluded: "The voicemail was simply appalling. It constituted a clear threat to commit murder.
"A person receiving such a threat was bound to feel extreme fear and alarm."