Body find near Arbroath cliffs where marine Ralph Hebden went missing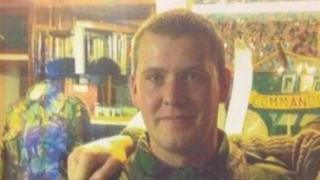 A body has been recovered from the sea at Arbroath near where a Royal Marine is believed to have gone missing three weeks ago.
Police have been trying to trace Ralph Hebden, who is based at RM Condor on the outskirts of the town.
It is thought that the 32-year-old had been planning to go running along the town's clifftops on the day he disappeared.
The body was recovered from the water below the cliffs at 11:55 on Monday.
A spokesman for Police Scotland's Tayside Division said inquiries were continuing and that no further information was known at the moment.
Mr Hebden, who is originally from Liverpool, was last seen at the Morrisons supermarket in Arbroath on 11 March.
It is believed that he then headed to Victoria Park and the Arbroath cliffs area for a run.
His wife Sarah gave birth to the couple's daughter on 22 March.