Dundee shoe firm Ward Walkers secures NHS contract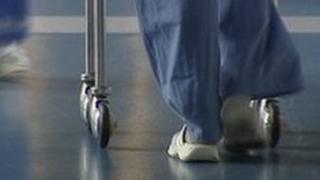 A Dundee shoe supplier has secured a major contract with the NHS in England and Wales.
Ward Walkers will provide footwear to all 645 NHS trusts for the next two years.
The company said the deal would secure the jobs of existing employees and create up to 10 new permanent posts.
The contract will see up to 100,000 pairs of shoes supplied to staff in operating theatres and for general hospital use.
Ward Walkers founding director, Roy Mclean, said: "It's a huge boost for the company and cements our growing reputation as a provider of footwear fit for the demands of the health service.
"The deal also proves that small and medium-sized enterprises can compete for national contracts and will enhance our chances of winning further business, both in the public and private sector."
Hospital shop
Ward Walkers currently employs 10 staff directly and a further 10 on a contract basis.
"In a very difficult retail environment this move into contract supply means job security for the existing staff and the creation of new positions within the company," added Mr Mclean.
The contract runs from April 1, 2013, with an option to continue for a further two years.
Ward Walkers is a privately-owned firm established in Dundee in 2004 with the specific aim of delivering high-quality work shoes to the nursing profession.
Its shop in Ninewells Hospital is believed to be the only on-site hospital shoe shop in the UK.