Perth teenager risked lives after grabbing wheel of 60mph bus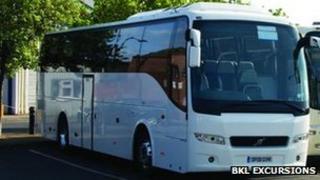 A court has been told a teenager put the lives of 70 people in danger as he grabbed the steering wheel of a bus travelling at 60mph.
William Duff, 19, seized the wheel of the 14-tonne coach while it was on the A90 between Dundee and Perth, near Glendoick, on 29 December 2011.
At Perth Sheriff Court he was found guilty of culpably and recklessly endangering the lives of the passengers
Sheriff Michael Fletcher deferred sentence until next month.
Perth Sheriff Court heard how the driver Lee Buckley had to kick Duff away during the incident on the late night trip home from Fat Sam's nightclub.
He regained control of the BKL Excursions Ltd bus and was eventually led back into Perth by a police escort.
Full bus
When the bus stopped, Duff, now 21, tried to flee by jumping out of the emergency exit.
Mr Buckley told the court he had collected 70 people from Fat Sam's club in Dundee at 03:00 to take them back to Perth and was on the dual carriageway when Duff approached from the back of the bus.
He said: "I noticed someone coming towards me and they sat in the crew seat beside me.
"He started speaking to me. I had never seen him before. He was talking about money but I didn't know what he meant. He was away with it
"He got up and turned round and said 'I'm going to drive,' grabbed the steering wheel and pulled it down to the left. I managed to get him off quite quick."
Mr Buckley said: "I veered to the left. I think I shouted at him and tried to push him away with my foot while keeping hold of the steering wheel.
"I had to veer back into the road and slow down. I didn't know what was going to happen next.
"I applied the brakes. I pushed him out of the way."
Mr Buckley, who runs BKL Excursions Ltd, said he called the police who then sent vehicles to form a convoy as the coach continued slowly into Perth.
Passengers also told the court how they were thrown around inside the coach as Duff grabbed the steering wheel and yanked it while Mr Buckley was trying to maintain control.
Fiscal Depute John Malpass told the court: "If it wasn't for the quick reactions of Mr Buckley there could have been serious consequences."