Blairgowrie cat rescued after three days up tree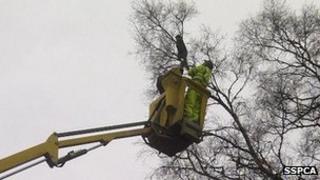 Firefighters used a cherry picker to rescue a cat which had spent three days stuck 60ft up a tree in Blairgowrie.
Four-year-old Maddox was brought down from the branches in the town's Ardblair Park after his owners contacted the Scottish SPCA on Tuesday.
The local fire and rescue service had tried to reach the cat using a ladder, but the attempt failed because the tree would not support its weight.
Maddox has now been returned to his owners.
Animal Rescue Officer Beverley O'Lone said the first attempt to rescue the cat using a ladder proved impossible as the branches of the silver birch tree were too thin.
'Too scared'
She then managed to get hold of a cherry picker that was in the Blairgowrie area at the time.
Once the bucket was near Maddox, his owners were able to rescue him from the branches.
Officer O'Lone said: "He was probably very relieved to have been rescued and no doubt hungry and thirsty after spending such a long time up there.
"We are often called out to rescue cats from trees but in most instances we find that the cats make their own way down when hunger and thirst gets the better of them.
"However, in this case it seemed that Maddox was just too scared to budge and it was at the point where his welfare was becoming a concern."