Tayside police dog, Nipper, becomes Police Scotland's latest recruit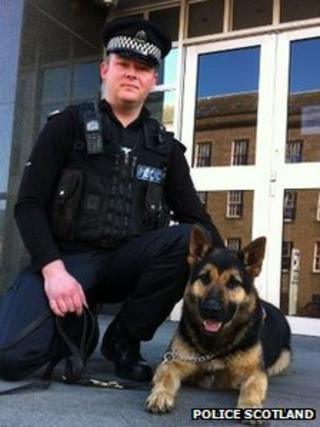 A Tayside police dog has become the first canine cadet to be licensed in the new Police Scotland.
Nipper, who was named by children at Liff Primary School on the outskirts of Dundee, was born as a result of Tayside's Dog Breeding Programme.
Since October 2011 he has been in training with dog handler PC Steve Ritchie.
He has now passed the National Police Dog Assessment Model and undertook his first operational shift this week.
Nipper is now working with his new handler PC Ryan Galloway.
PC Galloway, an experienced dog handler and the new Tayside Division trainer, said he was thrilled to be partnered with the canine crime fighter.
Learns quickly
He said: ''Steve has done a fantastic job in conditioning and training Nipper to become an excellent general purpose police dog.
"Whilst Nipper is still very young he is very quickly learning his new role. The work of a general purpose police dog is extremely varied.
"One moment you might be looking for a vulnerable missing person, the next you are tracking suspects from a crime scene or searching for articles of evidential value."
He added: ''That's why in order to get through the licensing process Nipper had to be tested in a number of key areas - tracking, searching, bite work, agility and obedience.
"However, the training doesn't stop now that he's licensed. Like all police dogs, every day is a training day.''