Fewer vehicles using Clackmannanshire Bridge than predicted, report says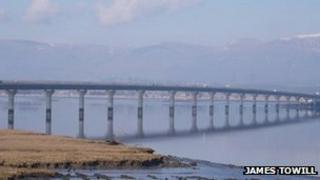 A report has found that fewer vehicles are using the Clackmannanshire Bridge than had been forecast when it was being built, but that it was still benefiting the local community.
Transport Scotland's figures show estimates were between 42% and 48% greater than the observed traffic flow in 2009.
The Clackmannanshire Bridge opened in 2008 at a cost of £120m.
It was built with the aim of reducing traffic on the Kincardine Bridge.
The Clackmannanshire Bridge is situated at the boundaries of three local authorities; Clackmannanshire, Fife and Falkirk.
The study by Transport Scotland looked at 10 trunk road improvement schemes opened between April 2007 and March 2009.
Local changes
It concluded that the opening of the Clackmannanshire Bridge had little impact on the overall volume of cross‑Forth traffic, that is, traffic using the A91, Clackmannanshire Bridge, Kincardine Bridge and Forth Road Bridge.
However, it did record a change in localised traffic with total cross-Forth traffic in the Kincardine area increasing by approximately 8% and flows on the existing Kincardine Bridge reduced by approximately 52%.
Transport Scotland said the Clackmannanshire Bridge carried about 14,400 vehicles per day in 2009.
However, the study also noted that was about 7,000 fewer vehicles per day using the crossing than had been predicted for the observed period.
It further added that despite the predictions over estimating how many drivers would use the bridge, it still would "continue to provide a benefit to road users".
It also said: "The impact of the project on Kincardine, in terms of roads and traffic is positive."