Dundee benefit fraudster jailed for six months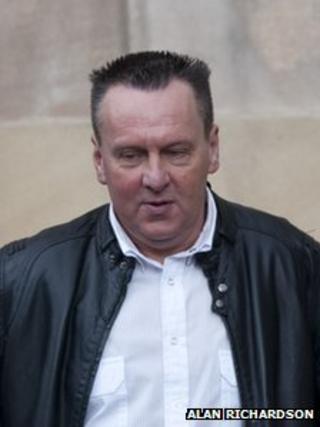 A Dundee man who claimed more than £14,000 in disability benefits while working as a painter and decorator has been jailed for six months.
Norman Lawson received £14,129.38 in incapacity benefit and disability living allowance despite working for more than six years.
The 52-year-old pleaded guilty to two charges under the Social Security Administration Act.
Sheriff Tom Hughes jailed Lawson for six months.
Lawson had claimed higher rate mobility allowance, intended for those who cannot walk, and lower rate care allowance, meant for those who need help in the home.
The fraudster failed to tell benefits bosses that he had recovered from a previous injury, and started working as a self-employed contractor for Barry Greenhill Joiners and Contractors in October 2004.
Lawson was eventually caught after an anonymous tip off, and told investigators he saw the fraud as a way to make extra money when he got into financial difficulty.
Needed money
Fiscal depute Nicola Gillespie told Dundee Sheriff Court: "Information was received on 10 February 2010 that the accused worked for himself, for a joiner and contractor's firm in Forfar.
"He admitted he had received benefits but said he had family problems and had had hard times financially.
"He saw it as a chance of extra money for his family."
Lawson admitted that between 17 October 2004 and 7 November 2009 he claimed £1782.42 of incapacity benefit that he was not entitled to, after failing to inform the Department of Work and Pensions that there had been improvements in his ability to manage his disabilities and that he was working as a self-employed painter and decorator for the same firm.
Lawson further admitted claiming £12,346.96 of Disability Living Allowance that he was not entitled to between May 17 2010 and December 28 2010.
Some repayments
Iain Myles, defending, said Lawson was now living on Jobseeker's Allowance, as his other benefits had been stopped.
He added: "Mr Lawson has been paying back £10 per week from his benefits but that has stopped now.
"He has accepted that he did not notify the authorities of a change in his circumstances."
Sheriff Hughes said: "I'm taking into account what has been said on your behalf and I'm aware of the fact there were detailed negotiations involved.
"The difficulty you have is that there are very clear guidelines and in your case a custodial sentence is inevitable."