Perthshire family criticise police over murder investigation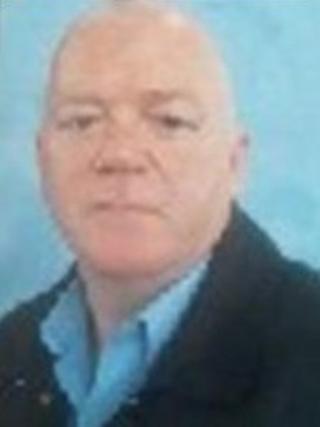 The family of a murdered Perthshire man have criticised the police, claiming they have "given up" on finding the person responsible for his death.
John McMurchie, 50, was stabbed through the heart in Fintry Terrace, Dundee, at about 04:00 on 12 August last year.
No-one has been convicted of his murder. His family said they believed officers "have not investigated thoroughly".
The Tayside division of Police Scotland said the case remained open.
Officers arrested a man within hours of Mr McMurhcie being found, but he was later released without charge.
Now his wife Donna and brother Bruce have said they are "gutted" at the lack of progress in the case.
Fewer detectives
Donna, 40, said: "The last meeting we had with the police was at the end of February and they basically said that was it.
"There are no detectives working on it now. They have said they have investigated all the avenues that they could and there was no more they could do without finding the murder weapon.
"I feel gutted. It started off with quite a few detectives, then it went down to seven, and then it was four and then they said that's it."
She added: "I thought by the end of it they would come back and say they've got the person and they're in jail.
"I used to bring the bairns up to trust the police and they were there to help you. I don't trust them as far as I can throw them now."
Mr McMurchie's elder brother, Bruce, 54, said solving the murder should have been an "open and shut case".
He said: "If it was one of their own they would have it solved in a matter of minutes. To me, they haven't investigated it thoroughly.
"They said if they got any more information they would act on it.
"The last few months have been torture for the whole family, because we can't get closure on it. We all want answers."
'Open case'
A spokeswoman for the Tayside division of Police Scotland said: "We never close the file on an unsolved murder.
"Detectives may not be working on this inquiry full time but that does not mean that the case has been closed.
"The murder of John McMurchie remains an open case with the senior investigating officer continuing to pursue any new lines of inquiry."
She added: "The Holmes (Home Office Large Major Enquiry System) incident room is still up and running for this inquiry and all new pieces of information will be actively investigated.
"The police family liaison officer has provided regular updates to the family and will continue to update them on any new developments with the case."