New project at Abertay University to give game studios access to student works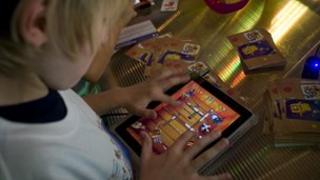 Dundee's Abertay University has launched a new project aimed at helping game design students see their efforts developed into full working titles.
The Code Bar will give established game development studios access to projects created by students.
It has been developed with the help of the Intellectual Property Office.
Companies will be able to purchase all the rights for any games submitted to the Code Bar, with 60% of the proceeds going to the students.
The intention of the project is to unlock the valuable intellectual property created by students at Dundee's Abertay University and its game development competition Dare to be Digital.
It will also allow a games studio to develop the project further than would have otherwise been the case.
Developing projects
Brian McNicoll, games industry consultant and co-founder of Bafta-award winning Dynamo Games, worked with Abertay University staff and students, and the Intellectual Property Office, to deliver the project.
He said: "The Code Bar takes a very different approach to bringing promising new student games out to the market.
"There are so many games created by students at Abertay University, and on Dare to be Digital, that could be developed further by the right company.
"We're looking to unlock promising, hidden intellectual property, giving games companies new creative ideas to develop into full products, paying students for successful sales of their exceptional work, and hopefully bringing more innovative games to market."
Rosa Wilkinson, director of innovation at the IPO, said: "The Intellectual Property Office is delighted to have been able to support this exciting initiative through its Fast Forward Competition.
"The Code Bar is an excellent example of how the competition can support innovative approaches to knowledge exchange that benefit both businesses and students, leading to products and services that will help the UK economy to grow."