Restoration of Aberfeldy's Birks Cinema is completed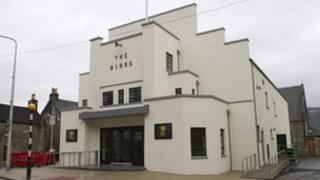 The seven-year project to restore a 1930s cinema in the Perthshire town of Aberfeldy has been completed.
Following a £1.3m construction programme, the Birks Cinema will finally open its doors to the public.
The cinema, which is in the centre of the Perthshire town, closed down more than 30 years ago.
A "Golden Ticket" event is being held on Friday, 19 April to celebrate the restoration, ahead of the first screening the following day.
The Birks cinema was opened in 1939 and was designed to "promote happiness for the people of the town and attract visitors for the neighbouring countryside".
However, it fell in decline in the 1970s and closed in the early 1982, and ended up as an amusement arcade, which in turn closed in 2004.
The new state-of-the-art 100 seat cinema will be able to show 3D films and will screen the latest Hollywood releases as well as classics.
It also includes a cafe and bar and will act as a venue for other uses including the screening of live sporting and cultural events from around the world.
Local employment
The management team hope to show live broadcasts of the Met Opera, the Bolshoi ballet and other cultural events such as interactive exhibitions from the British Museum.
It will also employ eight people.
The area's MSP, Cabinet Secretary for Finance, Employment and Sustainable Growth John Swinney was the first to buy tickets for the re-launched cinema.
He said: "This day has been long awaited and really drives home what community team work can achieve.
"I'm honoured to be first in line to buy tickets for my local cinema and very proud to see The Birks Cinema restored, resplendent and fully operational once again.
"Moreover, I am excited about the role the cinema will now play in the local community as an employer, as a creative inspiration, and as an asset to Aberfeldy and the Highland Perthshire area for both residents and visitors alike."
The renovation project has been led by local group, the Friends of the Birks Cinema.
Charlotte Flower, chair of The Birks Cinema, said: "John Swinney has been a prominent supporter of our project and we are delighted he has been our first customer.
"We've truly appreciated his backing and we look forward to seeing him return to The Birks Cinema as a regular customer as we know he's a big fan of the movies."