Dundee man convicted of 'dog attack' assault on flat mate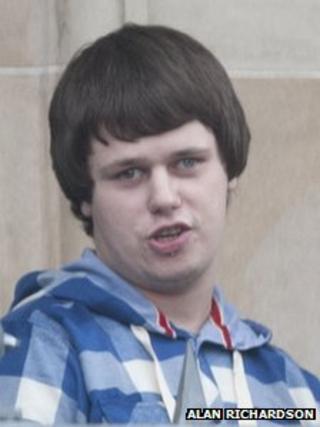 A Dundee man who told his Staffordshire Bull Terrier "good boy" after it savaged a woman with cerebral palsy has been found guilty of assault.
Derek Duncan launched the attack on Nadine Crowe after she binned a two day old meal that he had left in a flat the two shared in Dundee's Mains Loan.
A jury at Dundee Sheriff Court convicted him of assault and also a charge under the dangerous dogs act.
Sheriff Elizabeth Munro deferred sentence until next month.
Ms Crowe told the three day trial the pair had been best friends - and had a "brother sister relationship" - and that they had lived at the flat since 2011.
But Ms Crowe said Duncan launched a violent attack on her after she threw out his leftovers before offering to buy him a fresh one.
Struggled to escape
She said he then started to slap her - before pinning her down with his knees and repeatedly punching her on the face.
Giving evidence at Dundee Sheriff Court, Ms Crowe said: "I tried to push him off but I couldn't - I have cerebral palsy so I don't have the strength of a regular person in my arms and hips downwards.
"Derek Duncan was aware of that. He was saying I don't want a new Chinese - I wanted that old one. While he was punching my face his dog bit my left ear."
Ms Crowe added: "Once I got up and looked in the mirror I saw my ear - I could see half an ear and blood. I said 'look at my ear - you will have to phone an ambulance'."
She said she had tried to call 999, but Duncan had then grabbed the phone from her.
The 24-year-old said: "He then got Kaii and put his lead on him and told him he was a 'good boy' and then left the flat."
Ms Crowe said she was then taken to hospital and underwent an operation to fully reattach her ear. She said she had to have 45 stitches on the wound.
Majority conviction
Duncan, 24, had denied three charges on indictment.
But a jury took just 40 minutes to find him guilty by majority of assaulting Nadine to her injury by repeatedly punching her on the head, slapping her face and grabbing her throat to her injury.
The jury of nine women and six men also convicted him by majority of sending messages to Ms Crowe's sister Kimberley threatening violence to her and her family.
And Duncan was unanimously convicted of a charge under the Dangerous Dogs Act that Kaii was "dangerously out of control" when he "bit and mauled" Ms Crowe to her severe injury and permanent disfigurement.
The offences took place on 7 May and 9 May last year.