Forth Valley councils launch pilot to bring empty homes back into use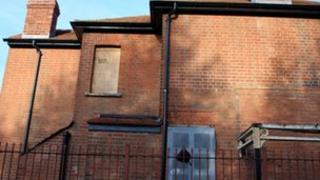 The Scottish government has given its backing to a programme by three councils in the Forth Valley to bring empty homes back into use.
Falkirk, Stirling and Clackmannanshire councils have been awarded £20,000 to set up an advisory board to identify, refurbish and rent, or sell empty homes.
The Scottish Empty Homes Partnership will be run by Shelter Scotland.
The charity said there were about 1,600 private empty homes in the area.
However, it also said there were 12,872 households in Falkirk, Stirling and Clackmannanshire on waiting lists for a home.
The £20,000 funding from the Scottish government will be backed by additional funding from each of the local authorities.
'Win-win'
Kristen Hubert, Empty Homes Co-ordinator at Shelter Scotland, said: "Whatever the reason for an empty home, whether the owner has sentimental attachment to it or doesn't have the time, skills or finances to complete their plans, bringing empty homes back into use has many benefits.
"It adds to the housing supply, contributes to local regeneration and makes for safer neighbourhoods. It's a win-win situation for owners too as they can begin to realise an income from their property or sell on an asset that is costing them money.
"We look forward to working with the councils to engage with owners across the Forth Valley to help transform empty properties back into homes."
The Scottish government's Housing and Welfare Minister, Margaret Burgess, said: "Empty homes are a blight to many communities across Scotland, including those in areas of the Forth Valley.
"Bringing these empty homes back into use makes sense because it is a cost-effective way of increasing the supply of housing available to families, providing much needed new homes for hundreds of people.
"The Empty Homes Loan Fund, and wider work being taken forward by councils as a result of the Shelter Scotland-led Scottish Empty Homes Partnership, can help significantly reduce the number of wasted, empty homes across Scotland."